Our Story
Loziba CWC (Pty) Ltd: The Company

 
The Company is registered as a legal entity in South Africa with African Conservation Trust holding 100% of shares in trust. Francois du Toit, CEO of African Conservation Trust is the sole director at present. 
Company Vision:

 
To become a flagship conservation economy case study whilst delivering solid returns for our local and international investors and shareholders. 
Company Mission:
Loziba CWC (Pty) ltd is a company established to develop a sustainable conservation economy conservancy, working with our partners, investors and communities. Our primary mission is to create a 30,000 Ha sanctuary for iconic species, including Black Rhino, White Rhino and Elephant  by 2030.
To invest in Loziba, follow the link below
Loziba Non-Profit: The Charity

 
African Conservation Trust (ACT) is a broad-based environmental, conservation and heritage organisation, founded in 2000. Loziba non-profit is an ACT project and ACT collects all monies on behalf of Loziba.
Our Vision:

 
Our vision is simple: People on a profitable planet. We envision a world that is able to sustain human life, with abundant natural resources, which people can use not only to survive, but to flourish. 
Our Registrations:
Not-for-Profit Trust No.: IT 2174/2000/PMB
South African Registered Non-Profit Organisation No.: NPO 030-243
SARS Public Benefit Organisation No.: 930014758
To donate to Loziba follow the link below
The Reserve is situated In the heart of Zululand, Kwazulu Natal, South Africa
Approximately 260km from King Shaka International (Durban), approximately 3 hour drive from Durban & 4 hours from Johannesburg. Located within the Hlulluwe, Mfolozi, Isimangaliso Wetland Park (World Heritage Site) node, world renowned for its big five wilderness tourism experiences. 
The proposed Reserve is made up of a number of existing farms that have been targeted for acquisition, as well as various community owned land. 
Click on downward arrows to Read More
The herd of elephants on the proposed Loziba Wildlife Reserve were introduced in 2003, having broken out of one of the fenced properties now identified to be included into the reserve. Without the establishment of Loziba Wildlife Reserve, there is the very real possibility of having to destroy the herd of circa 30 individuals. 
Beyers Coetzee, an honorary founding member of CWC PAfrica, was tragically killed on the 18th February 2020 attempting to keep the herd from moving onto community land, and was trampled to death by two of the younger bulls in the herd. 
Famous artist Andries Botha, created this beautiful memorial to Beyers that stands on the land he loved – Loziba.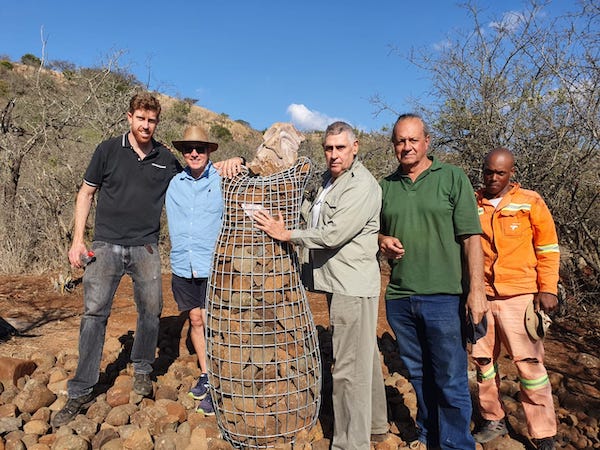 Our Team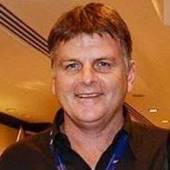 GRANT FOWLDS
TECHNICAL OPERATIONS DIRECTOR
Grant is a passionate conservationist, a connector and communicator with a unique ability to bring people together. His fluency in both Zulu and Xhosa are a critical tool in bringing this project to fruition. He is a best selling author, and his book 'Saving the Last Rhinos' is opening doors and connecting people from all over the planet with this project and programme for rangeland expansion. Grant has an empathy for communities and the conservation sector he serves that is evident in tireless campaigning. Grant was part of a small team that carried out a similar and very successful project in the Eastern Cape called Amakala. The land was once various farms that have been amalgamated and returned to their natural bushveld state, populated with game species indigenous to the area.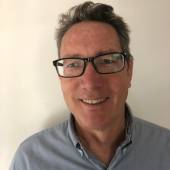 FRANCOIS DU TOIT
STRATEGIC AND FUND RAISING DIRECTOR
Francois du Toit holds a B.Com in Marketing, Economics and Business Administration, a Bachelor of Laws (LLB) from the University of KwaZulu Natal, Pietermaritzburg, and a Diploma in Project Management. He lives in Kloof, Durban, and is happily married with 2 young adult children, and 4 dogs. Francois serves as CEO of the African Conservation Trust, (www.projectafrica.com), implementing a range of cultural, environmental, conservation and heritage projects throughout KZN and Southern Africa. ACT has a key focus on Conservation Agriculture, and building the Conservation Economy. ACT is a founder member of Project Rhino, providing secretariat, programme management and strategic oversight for this innovative collaboration, which brings multiple stakeholders together to combat wildlife crime. Francois is a Project Rhino Ambassador, and Programme Director for the World Youth Wildlife Summits. Francois has founded and serves on a number of other environmental and BEE trusts, has done extensive work in community development, food security, waste management and the environmental sector, and is a sought after speaker and facilitator.
JAMES ARNOTT
PROJECT DIRECTOR
James' early career revolved around FMCG marketing management, working with corporates such as Unilever and Robertson's Spices, based in Durban. He moved into property full time in 2003 and has subsequently been involved with a number of reputable development and construction businesses in ownership and various roles and has completed a number of successful property developments in South Africa.
Make a donation
A donation to Loziba can make a world of difference to an elephant family